Barriers in international cooperation activities in science-technology field
Keywords:
Science-technology, International cooperation, Policy
Abstract
International cooperation activities in science-technology field play important roles in knowledge economy which involves many actors. From one side, international cooperation brings rich benefits for involved partners such as shortening gaps between nations, enhancing competitiveness of nations and others, and, from another side, posing many challenges. This paper focuses on barriers rising from cooperation process and international cooperation policies in science-technology field and, then, proposes initiatives to overpass barriers.
Code: 19050601
Downloads
Download data is not yet available.
References
1. OECD, 2003. Policy coherence, Public Governance and Territorial Development Directorate, GOV/PUMA (2003) 4. Paris: OECD.
2. Anderson, M. S., 2010. International research collaborations: Anticipating challenges instead of being surprised, in Europa World of Learning 2011, Vol. 1, 61st, pp. 14 - 8. London: Routledge.
3. Konnola Ko¨ nno¨ la¨, T., et al, 2011. Foresight for European coordination: Developing national priorities for the forest - based sector technology platform, International Journal of Technology Management, 54: 438 - 59.
4. Stamm, A. and A. Figueroa, 2012. Effective international science, technology and innovation collaboration: From lessons learned to policy change, in Meeting Global Challenges through Better Governance: International Co-operation in Science, Technology and Innovation, OECD Publishing, Paris,
5. European Commission, 2012. International Cooperation in Science, Technology and Innovation: Strategies for a Changing World, Report of the Expert Group established to support the further development of an EU international STI coperation strategy.
6. Bozeman, B., Boardman, C., 2014. Research Collaboration and Team Science, Springer ISBN 978 - 3 - 319 - 06468 - 0 (eBook).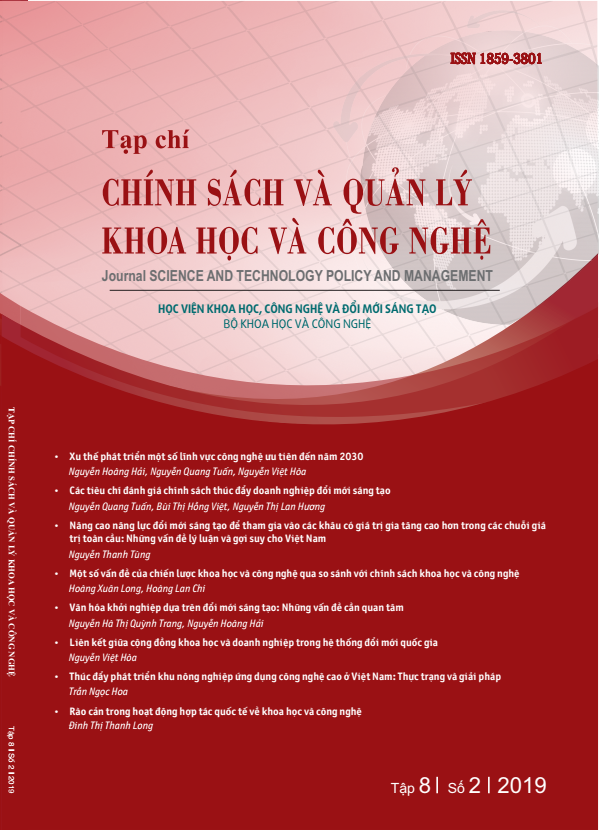 How to Cite
Long, D. (2019, July 16). Barriers in international cooperation activities in science-technology field. Journal SCIENCE AND TECHNOLOGY POLICIES AND MANAGEMENT, 8(2), 116-124. Retrieved from http://vietnamstijournal.net/index.php/JSTPM/article/view/303
Section
STUDIES OF STRATEGIES AND MANAGEMENT
Authors who publish with this journal agree to the following terms:
Authors retain copyright and grant the journal right of first publication with the work simultaneously licensed under a Creative Commons Attribution License that allows others to share the work with an acknowledgement of the work's authorship and initial publication in this journal.
Authors are able to enter into separate, additional contractual arrangements for the non-exclusive distribution of the journal's published version of the work (e.g., post it to an institutional repository or publish it in a book), with an acknowledgement of its initial publication in this journal.
Authors are permitted and encouraged to post their work online (e.g., in institutional repositories or on their website) prior to and during the submission process, as it can lead to productive exchanges, as well as earlier and greater citation of published work (See The Effect of Open Access).