The necessity of ranking research organizations in Vietnam
Keywords:
Ratings, Research Organizations, Policy Planning, Science and Technology development
Abstract
Through the study on the world ranking of research organizations1, the authors looked at the effect of rating the performance of the institutions concerned. There are two types of rankings, i.e ranking of research institutions in the world (called international ranking) and ranking of research institutions in the country (known as national ranking). This article analyzes the views on the international ranking published by Scimago and Thomson Reuters, and the national ranking of Germany (published by the Federal Science Council of Germany) and Japan (published by Thomson Reuters) to clearly understand the significance of ranking of research institutions. The authors also analyzed the views on the necessity of ranking of research institutions in Vietnam for science and technology (S&T) development policy makers and the research organizations themselves as well as for local public, in general. From the analysis, the authors considered that in the present context of S&T of Vietnam, ranking the research organizations was a necessary task to perform in parallel with the periodic review of their performance.
Code: 15081701
Downloads
Download data is not yet available.
References
Ti?ng Vi?t:
1. Quy?t ??nh s? 1318/Q?-BKHCN ngày 05/06/2015, B? tr??ng B? KH&CN phê duy?t ph??ng h??ng, m?c tiêu, nhi?m v? KH&CN ch? y?u giai ?o?n 2016-2020.
2. Thông t? s? 38/2014/TT-BKHCN ngày 16/12/2014, B? tr??ng B? KH&CN quy ??nh v? ?ánh giá t? ch?c KH&CN.
3. H??ng d?n s? 1206/HD-?BCLGD ngày 23/04/2013, ??i h?c qu?c gia Hà N?i v? các tiêu chí c?a ??i h?c nghiên c?u.
Ti?ng Anh:
4. Forschungsgemeinschaft and the Max Planck Society. Hanover, 1999.
5. Recommendations for rankings in the system of higher education and research. German Council of Science and Humanities - WR, 12 November 2004.
6. Scimago Institutions Rankings - SIR World Report 2009, 2010, 2011, 2012, 2013.
7. Thomson Reuters Announces Ranking of top Japanese Research Institutions for all Fields, 2001-2011.
8. Report of the International Commission for System Evaluation of the Deutsche.
9. Criteria and indicators for ranking of Chinese Academy of Sciences - CAS, 2010.
10. Research University Ranking:http://www.webometrics.info/en/Asia_Pacifico?page=2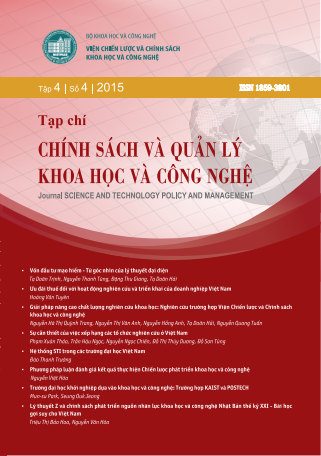 Downloads
How to Cite
Thao, P. X., Ngoc, T. H., Chien, N. N., Thuy Duong, D. T., & Tung, D. S. (2017). The necessity of ranking research organizations in Vietnam. Journal SCIENCE AND TECHNOLOGY POLICIES AND MANAGEMENT, 4(4), 49–58. Retrieved from https://vietnamstijournal.net/index.php/JSTPM/article/view/175
Section
STUDIES OF STRATEGIES AND MANAGEMENT
License
Authors who publish with this journal agree to the following terms:
Authors retain copyright and grant the journal right of first publication with the work simultaneously licensed under a Creative Commons Attribution License that allows others to share the work with an acknowledgement of the work's authorship and initial publication in this journal.
Authors are able to enter into separate, additional contractual arrangements for the non-exclusive distribution of the journal's published version of the work (e.g., post it to an institutional repository or publish it in a book), with an acknowledgement of its initial publication in this journal.
Authors are permitted and encouraged to post their work online (e.g., in institutional repositories or on their website) prior to and during the submission process, as it can lead to productive exchanges, as well as earlier and greater citation of published work (See The Effect of Open Access).