A CULTURAL DIMENSION APPROACH TO ENVIRONMENT AND DEVELOPMENT PROMOTING SUSTAINABLE DEVELOPMENT IN VIETNAM
Keywords:
Institutions, Environment, Sustainable development, Cultural approach
Abstract
Until recently, research on institutions promoting sustainable development in Vietnam has mainly focused on the role of the state and business - the two main groups of social actors involved in shaping the development path of Vietnam. The article analyzes the cultural conflict between three groups of social actors (state, business and civil society) on the path of sustainable development in Vietnam from cultural perspectives on environment and development. The article argues that the cultural approach to environment and development is considered as a new approach different from the traditional approach, will provide a new perspective on the dynamics of policy related to the environment and development, which has been implemented together with sustainable development in Vietnam.
Code: 23011601
Downloads
Download data is not yet available.
References
Bạch Tân Sinh (2020). "Chuyển đổi chính sách khoa học, công nghệ và đổi mới sáng tạo trong bối cảnh các biến động khó lường ngày càng gia tăng trong tương lai". Tạp chí Chính sách và Quản lý Khoa học và Công nghệ, số 3/2020.
Nguyễn Danh Sơn (2020). "Tài nguyên và môi trường - Nền tảng cho phát triển bền vững, tư duy quản lý mới và gợi ý chính sách". Kỷ yếu Hội thảo Khoa học Quốc gia lần thứ tư. Đại học Quốc gia Hà Nội. Hà Nội: Nxb Khoa học và Kỹ thuật.
Trương Quang Học (2020). "Phát triển hợp sinh thải: Xu thế thời đại và triển vọng của Việt Nam". Kỷ yếu Hội thảo Khoa học Quốc gia lần thứ tư. Đại học Quốc gia Hà Nội. Hà Nội: Nxb Khoa học và Kỹ thuật.
Townsend, P. (2018). Mặt trái của công nghệ. Hà Nội, Nxb Chính trị Quốc gia Sự thật.
Acharya, Amitav (1999). "Realism, institutionalism and the Asian economic crisis". Contemporary Southeast Asia (Vol. 21, No. 1. April 1999), pp 1-29.
Bach Tan Sinh (1998). Sustainable Development in Vietnam: Institutional Challenges for Integration Environment and Development. Ph.D. Thesis at Aalborg University. October 1998.
Bach Tan Sinh (2002). "The partnership between government and NGO in managing water at commune level in Vietnam: a case study of Thai Long Dam project". Journal Business Strategy and the Environment, UK. Volume 11, Issue 2, pages 119-129 March/April 2002.
Doberstein, B. (1998). "Environmental Impact Assessment Capacity Building in Vietnam: The Role and Influence of Development Aid Programme". Paper presented at the IAIA'98 Annual Conference, Christchurch, New Zealand, April 1998.
Elzinga, A. and Jamison, A (1995). "Changing policy agendas in science and technology". in: Jasanoff, S. et. al., editors. Handbook of Science and Technology Studies. Sage; 1995.
Eyerman, R. and Jamison, A (1991). Social movements: a cognitive approach. UK: Polity Press.; 1991.
Gramsci, A (1971). Prison Notebooks. New York: International Publishers; 1971.
Hiebert, M. (1992). "Green fees". Far Eastern Economic Review. 1992 Aug 20.
Information and Resource Centre (1991). Vietnam commentary. Singapore. March-April, 1991.
Jamison, A. and Baark, E (1990). "Technological innovation and environmental concern: contending policy models in China and Vietnam". Discussion Paper No. 1987. Lund, Sweden: Research Policy Studies.
Jamison, A; Eyerman, R, and Cramer, J (1990). The making of the new environmental consciousness: a comparative study of the environmental movements in Sweden, Denmark and the Netherlands. Edinburgh: University Press.
MOSTE/NISTPASS (1996). Industrialisation and Modernisation Strategy and Technology Revolution. National Politics Publishing House.
MPI and UNDP (1997). "An analysis of national environmental plans in Vietnam". Hanoi: Vietnam Capacity 21 Project; 1997.
Nguyen Thanh Binh, Bach Tan Sinh and Le Thuy Tien (2023). "Transformational policies and strategies framework accelerating green transition - The case of agriculture in Vietnam". Environmental Progress & Sustainable Energy, e14108. https://doi.org/10.1002/ep.14108.
Nguyen The Nghia (1997). "The urgent social, cultural and human issues in the course of industrialization and modernization". Journal of Communists, (9/1997).
Nguyen Thi Hien (1998). "The role of culture in development". Newspaper Culture. Hanoi; 1998 Aug 19.
Nhat Ninh (1991). "Debate on the negative sides of modern science and technology". People's Newspaper. 1991 Nov 13.
Tran Quoc Vuong (1998). "Open Letter to the Chairman of Quang Ninh People's Committee". Culture (Van Hoa). Hanoi; 1998 Aug 12.
Trong Tin (1997). "Vietnam needs cleaner production". Vietnam News. 1997 Jul 21.
Vietnam CPC (2001). Annual Report of the VNCPC. Hanoi: MOET, Hanoi University of Technolgy.
Vu Cao Dam (ed.) (1989). Improvement of policy measures to stimulating technological innovation in the macro-economic management system. Hanoi, Vietnam.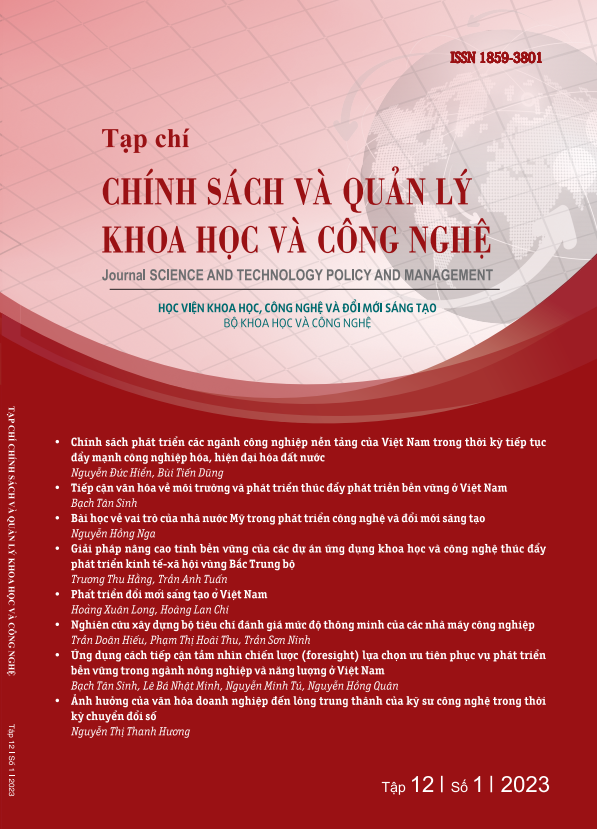 Downloads
How to Cite
Bach Tan Sinh. (2023). A CULTURAL DIMENSION APPROACH TO ENVIRONMENT AND DEVELOPMENT PROMOTING SUSTAINABLE DEVELOPMENT IN VIETNAM . Journal SCIENCE AND TECHNOLOGY POLICIES AND MANAGEMENT, 12(1). Retrieved from https://vietnamstijournal.net/index.php/JSTPM/article/view/491
Section
STUDIES OF STRATEGIES AND MANAGEMENT
License
Authors who publish with this journal agree to the following terms:
Authors retain copyright and grant the journal right of first publication with the work simultaneously licensed under a Creative Commons Attribution License that allows others to share the work with an acknowledgement of the work's authorship and initial publication in this journal.
Authors are able to enter into separate, additional contractual arrangements for the non-exclusive distribution of the journal's published version of the work (e.g., post it to an institutional repository or publish it in a book), with an acknowledgement of its initial publication in this journal.
Authors are permitted and encouraged to post their work online (e.g., in institutional repositories or on their website) prior to and during the submission process, as it can lead to productive exchanges, as well as earlier and greater citation of published work (See The Effect of Open Access).