National innovation councils: from theory to practice and lessons for Vietnam
Keywords:
Innovation, National Innovation System, Governance of Innovation Systems, Administration
Abstract
The role of innovation in economic growth has been increasingly confirmed from both theoretical and practical perspectives. Many countries around the world have established national innovation councils to monitor the operation of their national innovation system in order to come up with innovation policies in line with development practice. Reviewing experience of a number of countries we found that there are two typical models of national innovation council. The first one limits the function to consulting activities for the  government. This model is popular in Western developed countries. The second one extends the function to policy coordination activities and monitoring the implementation of national innovation policy. This is a popular model in East Asian countries such as Japan, Korea, China, and Singapore. From international experience and Vietnam's context, we recommends that Vietnam should establish a national innovation council following the model of mentioned East Asian countries.
Downloads
Download data is not yet available.
References
Nguyễn Thuỳ Liên, Đinh Tuấn Minh và Hoàng Văn Trung (2021). "Tổng quan lý thuyết và kinh nghiệm thực tiễn về vai trò của khoa học, công nghệ và đổi mới sáng tạo trong tăng trưởng kinh tế: một số gợi suy cho Việt Nam". Tạp chí Chính sách và Quản lý Khoa học và Công nghệ, Tập 9, Số 4, 2020.
OECD (1999). Managing Innovation Systems.
OECD (2005). Governance of Innovation Systems.
OECD/Eurostat (2019). Oslo Manual 2018: Guidelines for Collecting, Reporting and
Using Data on Innovation, 4th Edition, The Measurement of Scientific, Technological
and Innovation Activities, OECD Publishing, Paris/Eurostat, Luxembourg,
<https://doi.org/10.1787/9789264304604-en>.
Álvarez, I. & R. Marín (2010). "Entry modes and national systems of innovation".
Journal of International Management, Elsevier, Vol. 16(4), pages 340-353, December.
Cirera, X., J. Frías, J. Hill, & Y. Li (2020). A Practitioner's Guide to Innovation Policy. Instruments to Build Firm Capabilities and Accelerate Technological Catch-Up in Developing Countries. Washington, DC: World Bank.
Cvijanović, V., A. Reid, S. Elci, & H. Hollanders (2018). European Innovation Scoreboard 2018. Exploratory Report C: Supplementary analyses and contextualisation of innovation performance data.
Fagerberg, J. & B. Verspagen (2009). "Innovation studies-The emerging structure of a new scientific field". Research Policy. 38. 218-233. 10.1016/j.respol.2008.12.006.
Serger, S.S., E. Wise & E. Arnold (2015). National Research and Innovation Counsils as an Instrument of Innovation Governance - Characteristics and challenges. VINNOVA - Swedish Governmental Agency for Innovation Systems / Verket för Innovationssystem.
Soete, L., B. Verspagen & B. Weel (2010). "Systems of Innovation", in Handbook of the Economics of Innovation, Vol 2, Elsevier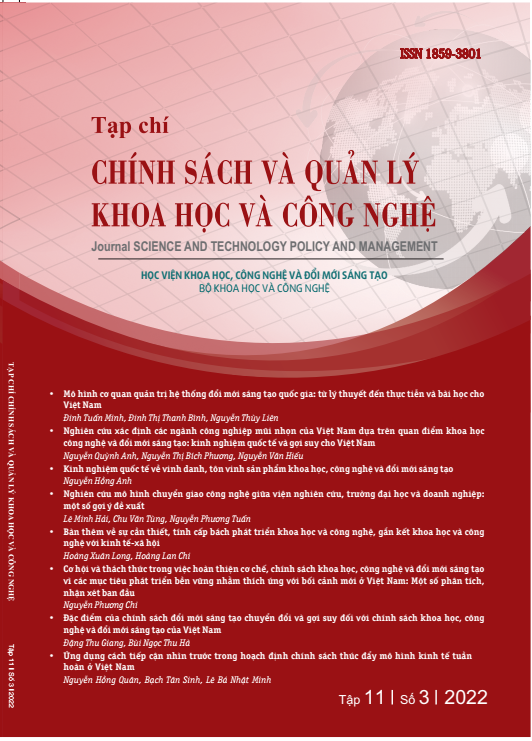 Downloads
How to Cite
Dinh Tuan Minh, Dinh Thi Thanh Binh, & Nguyen Thuy Lien. (2022). National innovation councils: from theory to practice and lessons for Vietnam. Journal SCIENCE AND TECHNOLOGY POLICIES AND MANAGEMENT, 11(3), 1–11. Retrieved from https://vietnamstijournal.net/index.php/JSTPM/article/view/465
Section
STUDIES OF STRATEGIES AND MANAGEMENT
License
Authors who publish with this journal agree to the following terms:
Authors retain copyright and grant the journal right of first publication with the work simultaneously licensed under a Creative Commons Attribution License that allows others to share the work with an acknowledgement of the work's authorship and initial publication in this journal.
Authors are able to enter into separate, additional contractual arrangements for the non-exclusive distribution of the journal's published version of the work (e.g., post it to an institutional repository or publish it in a book), with an acknowledgement of its initial publication in this journal.
Authors are permitted and encouraged to post their work online (e.g., in institutional repositories or on their website) prior to and during the submission process, as it can lead to productive exchanges, as well as earlier and greater citation of published work (See The Effect of Open Access).