Methodology of assessing the performing results of science and technology development policy
Keywords:
Evaluation, Results, Science and Technology Strategy
Abstract
Evaluation of science and technology (S&T) development strategy implementation (hereinafter referred to as strategy evaluation) is a requirement and necessity for the agency in charge of strategic S&T development planning and state S&T management. This paper provides various applicable proposals to address issues of public sector. The evaluation was based on the results of strategy implementation with a view to periodical review of the relevance, efficiency, effectiveness and impact of the strategy in a systematic manner taking into account the strengths, weaknesses, shortcomings and other observations of the strategy implementation for further appropriate change, adjustment or improvement. The paper presents the following contents: (i) the concept used in strategy evaluation; (ii) logical framework developed for strategy evaluation; (iii) Procedures, criteria and methods for strategy evaluation.
Code: 15113001
Downloads
Download data is not yet available.
References
Ti?ng Vi?t:
1. T? Doãn Tr?nh. (2008) ?ng d?ng ph??ng pháp kinh t? l??ng trong ?ánh giá tác ??ng c?a KH&CN ??i v?i phát tri?n.
2. ??ng Ng?c Dinh. (2012) Nghiên c?u d?a trên b?ng ch?ng và khuy?n ngh? chính sách - M?t s? suy ngh?.
Ti?ng Anh:
3. OECD. (1986) Methods and Procedures in Aid Evaluation
4. OECD. (1991) The DAC Principles for the Evaluation of Development Assistance, Glossary of Terms Used in Evaluation
5. OECD. (2000) Glossary of Evaluation and Results Based Management (RBM) Terms
6. OSLO (2004) The measurement of S&T activities proposed guidelines for collecting and interpreting technological innovation data.
7. OECD (2012) Science, Technology and Industry Outlook: Evaluation of STI policies.
8. Ruegg, R. And Feller (2003). A Toolkit For Evaluating Public R&D Investment: Models, Methods and Findings From Atp's First Decade.
9. Leslie A.Pal (2006) Beyond Policy Analysis. Public Issue Management in Turbulent Times, (3th Edition), Canada.
10. Van Leeuwen (2007) Modelling of Bibliometric Approaches and Importance of Output Verification in Research Performance Assessment. Research Evaluation, 2007; 16(2):93 - 105.
11. John Adair. (2010) Effective strategic leadership: The complete guide to strategic management.
12. Laurent Bach. (2010) Evaluation of STI policy performance and impacts, Pecs Session.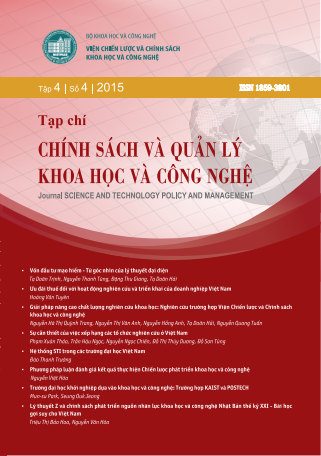 Downloads
How to Cite
Hoa, N. V. (2017). Methodology of assessing the performing results of science and technology development policy. Journal SCIENCE AND TECHNOLOGY POLICIES AND MANAGEMENT, 4(4), 72–88. Retrieved from https://vietnamstijournal.net/index.php/JSTPM/article/view/177
Section
STUDIES OF STRATEGIES AND MANAGEMENT
License
Authors who publish with this journal agree to the following terms:
Authors retain copyright and grant the journal right of first publication with the work simultaneously licensed under a Creative Commons Attribution License that allows others to share the work with an acknowledgement of the work's authorship and initial publication in this journal.
Authors are able to enter into separate, additional contractual arrangements for the non-exclusive distribution of the journal's published version of the work (e.g., post it to an institutional repository or publish it in a book), with an acknowledgement of its initial publication in this journal.
Authors are permitted and encouraged to post their work online (e.g., in institutional repositories or on their website) prior to and during the submission process, as it can lead to productive exchanges, as well as earlier and greater citation of published work (See The Effect of Open Access).